My Mom was in desperate need of something new to put on the wall in her kitchen - I'm still living at home, in case you wonder - and so I jumped in.
Before she had some prints from the Austrian artist Friedensreich Hundertwasser on that wall. Here are some of examples of his work, which is great. I really like him, it's also something to do with children in art classes or just at home. Just a short stop at google and I found quite a few sites. They are in German, though. Here or here.
These are not the ones we had in the kitchen. These pictures come from this website.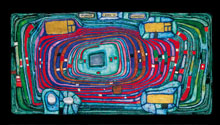 Don't get her wrong. She loves those prints, but they got boring after a while and they never really looked good where they were. I'm sure we can find some other use for them in a better place. They were actually pictures taken from an old calender. Every Christmas my father gives my mother one of those huge art calenders. For a few years now he always gives her a special photography calender with pictures from New York City, but before she got a different one every year.
So back to the problem at hand. An ugly white wall....
What I did was to get inspiration from all over the blogossphere. But Tam at Sew Dang Cute Crafts created a styrofoam wall art.I really love it. And my Mom did, too.
So I went to the fabric store with my sister and my niece and bought 8 different kinds of fabrics. My stash of fabrics isn't very large and my Mom's kitchen has accents of blue and beige/gold with a lot of light colored wood, so I needed to buy fabric. Not that this is something bad ;-)
Here is what I came up with:
I really like it and I got quite a few compliments for it ;-)
Meine Mama brauchte dringend etwas neues für ihre Küchenwand – I lebe, falls ihr euch wundert noch zu Hause – und da dachte ich mir ich kann da was machen.
Davor gab es auf der Wand drei Drucke vom Österreichischen Künstler Friedensreich Hundertwasser. Die Arbeit von Hunderwasser is wunderbar. Hundertwasser eignet sich ganz toll für Projekt mit Kindern und lässt sich super im Unterricht einbinden. Kurz gegoogelt und man bekommt tolle Seiten. Hier oder hier.
Hier ein paar Beispiele seiner Arbeiten, allerdings nicht die, die wir in unserer Küche hatten. Die Bilder kommen alle von dieser Website.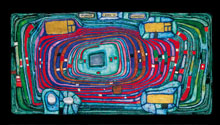 Versteht sie nicht falsch. Sie liebt diese Drucke, aber nach einer Weile werden sie einfach langweilig und außerdem haben sie auch nie zu der Wand gepasst. Die Drucke kommen von einem dieser großen Kunstkalender. Mein Vater schenkt meiner Mutter jedes Jahr einen zu Weihnachten. Seit ein paar Jahren allerdings bekommt sie – weil sie sie am liebsten mag – nur noch einen Kalender mit Photos von New York.
Aber zurück zum eigentlichen Problem. Die hässliche und super langweilige weiße Wand...
I habe mir Inspiration aus der ganzen Blogossphäre geholt. Aber Tam von Sew Dang Cute Crafts hat das einzig Wahre gemacht styrofoam wall art. I finde es wirklich umwerfend, genauso wie meine Mutter
Also bin ich mit meiner Schwester und meiner Nichte zum Stoffladen gefahren und habe 8 verschiedene Stoffe gekauft. Meine eigene Stoffsammlung ist eher klein und die Küche ist in blau und beige/gold gehalten mit viel hellem Holz, also brauchte ich neuen Stoff.
Hier ist meine Version:
Ich finde es wirklich toll und habe schon einige Komplimente dafür bekommen.